Moth and Wasp, Soil and Ocean
2018 Winner – Children's Literature
Moth and Wasp, Soil and Ocean: Remembering Chinese Scientist Pu Zhelong's Work for Sustainable Farming by Sigrid Schmalzer, Illustrated by Melanie Linden Chan (Tilbury House Nature Books)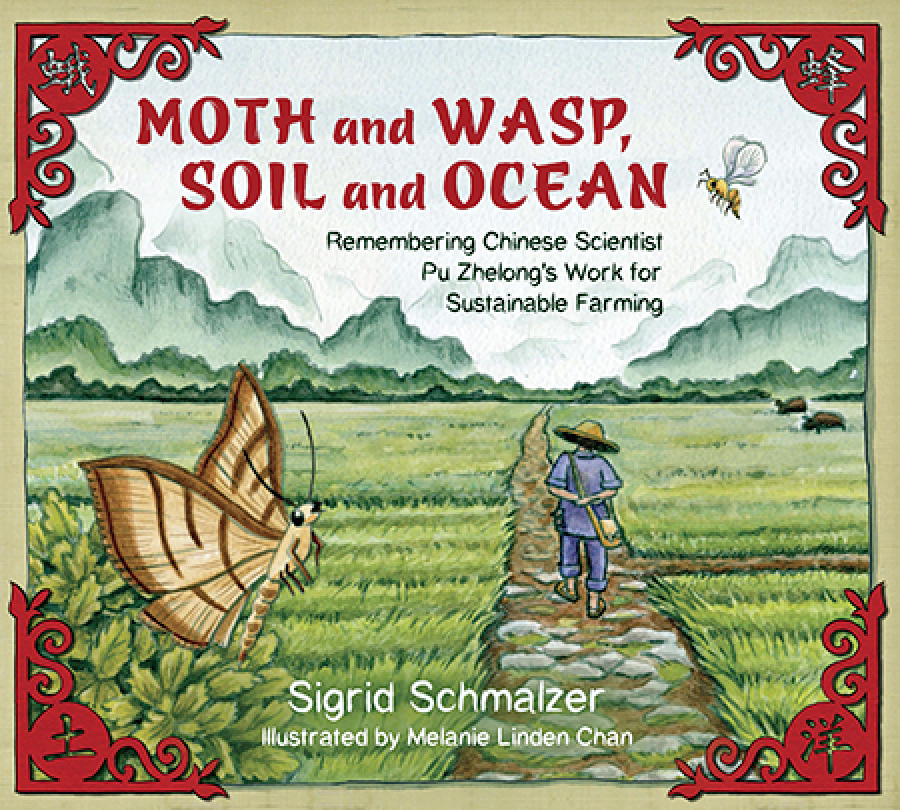 This beautiful book tells its story through the memories of a farm boy who, inspired by Pu Zhelong, became a scientist himself.
The narrator is a composite of people Pu Zhelong influenced in his work. With further context from Melanie Chan's historically precise watercolors, this story will immerse young readers in Chinese culture, the natural history of insects, and the use of biological controls in farming. Backmatter provides context and background for this lovely, sophisticated picture book about nature, science, and Communist China.
NCTA prepared Curriculum Connections for Moth and Wasp, Soil and Ocean.
Lesson Plans: 
Kindergarten teacher Robin Gurdak-Foley (Anne T. Dunphy School, Hampshire Regional School District, Williamsburg, MA) and Visual Art Instructor Lynda McCann-Olson (MSAD/RSU 51, Cumberland and North Yarmouth, ME) have developed mini-units for use with this book. These curriculum materials combine art, science, reading–and China! Moth and Wasp Gurdak-Foley Kindergarten. Moth and Wasp McCann-Olson Visual Arts.
Reader Guide:
Click HERE to access the Reader Guide.
Webinar: 
Click HERE for archived webinar on this book.
Other Awards: 
Winner of The Sigurd F. Olson Nature Writing Award
A Notable Social Studies Trade Books for Young People 2019
Selected for the Cooperative Children's Book Center of the School of Education at the University of Wisconsin-Madison.