Are You an Echo?
2016 Honorable Mention – Children's Literature
Are You an Echo? – The Lost Poetry of Misuzu Kaneko by Misuzu Kaneko (Chin Music Press)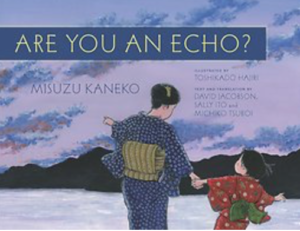 Are You an Echo? brings the lyrical poems and life story of now famous Japanese poet, Misuzu Kaneko, to an American audience. Her poems were lost for many years but are now popular with schoolchildren throughout Japan. The haunting title poem was played instead of commercials on public radio after the tsunami in 2011, helping to bring a million volunteers to the devastated seaside towns.  Her poems capture Kaneko the thoughtful child observing nature and life by the sea and, later, the loving mother. Illustrations by Toshikado Hajiri complement the biography as recreated from Kaneko's diaries and her vivid poems. Even the tsunami and recovery are powerfully depicted.  The poems, several printed in English and Japanese, are aimed at young readers.  Encountering Kaneko's illness and suicide will require guidance from parents and teachers, though, but current scholarship on early childhood education suggests that children are strengthened by seeing both darkness and light in life.
Click HERE to access the archived webinar.